Hey loves. I trust you are doing great and Feb is Fab for you as well. You guys know that Natural Moisture moved to Edenvale mid last year, to our family home, in the garage and I have been literally working from home ever since the move. When we moved, the ladies I work with were surprised to see me walking in day after day with heels, my handbag and all dressed up for the office. And when they asked why, my answer was, "You guys dress up to come here. Why should I not dress up to come to the office as well?" Besides, I meet suppliers and clients here and I care enough to present a good image for the business. We mean business right? I like dressing as appropriate as possible when I go to the office and my appropriate looks something like the pieces below.
I've grown to love online shopping as I can look at different shops, different categories and styles in real time on my phone or computer. No need to take time off my schedule to go to the mall as I can do it all in the comfort of my home/office. And to top it off, the specials are emailed to me so I can take advantage of the lower prices immediately and not wait until I can get time to visit the mall. The great thing is, most of my favorite shops have facilities to shop online, even those with brick and mortar shops already. There are also a number of strictly online shops that I love to buy from and one of those is Superbalist which I have partnered with on this post to bring you my work ready staples when it comes to office fashion.
I'm a dress and skirt kind of girl. So, I tend to gravitate more to these when I look at stocking my wardrobe. These I know I will get to wear very often than buying something that I will only wear maybe once or twice a year. So I picked these.
Every woman needs a comfortable black dress to pull out when You are feeling a bit under the weather. With this dress, I would either put on a shirt on top to create a more classy and professional look or dress it further up with a plain coloured jacket and matching heels for those important meetings. It can be dressed down as well in the evenings, after work, by taking off the jacket and wearing flat sandals or pumps.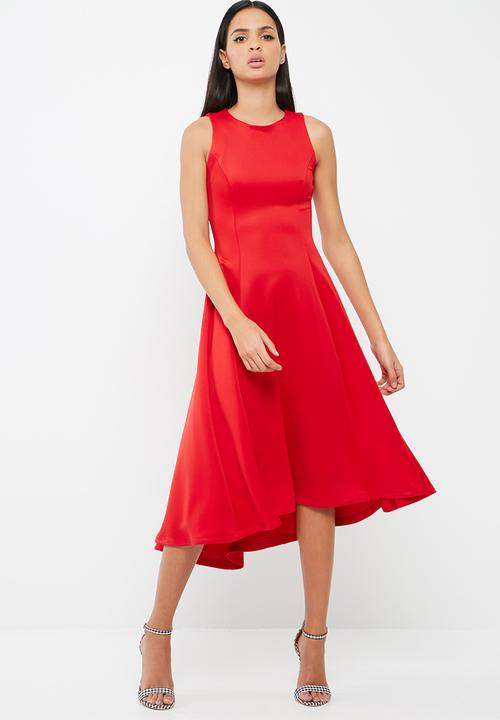 I also picked the above red dress which I think can be paired with a black jacket when the weather is a bit cooler and worn as is on warmer days. Especially these days when the weather is so unpredictable, one minute it's so cold and before you know it, it's so hot you can hardly stand it, layering is the way to go. This dress is so perfect for that and the colour red just adds life to it.
I picked a number of blouses and shirts and this blouse stood out for me because of the length. Something to cover my hips when I am wearing something tight and I don't want to show too much detail. You know, when I tend to pick on weight and for me, the hips suffer more for the sins committed to gain the weight. This blouse is also on sale as I write this post and so are other items on the site. This top has been marked down by 40%. How amazing is that? This simple sleeveless blouse comes in handy and can be paired with a lot of colours when it comes to pants and skirts. A  black pencil skirt like this one below will look really good.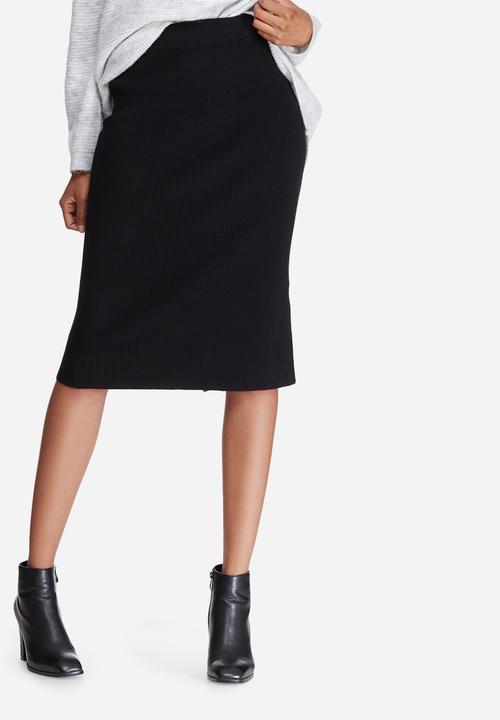 This pink blouse is what I would pair with the black dress above with the buttons fastened or not to create a more classy outfit.
This pink pencil skirt is also really nice and I would pair it with any of the tops on my list and ones I already have. Pink is the new black these days. Especially this dusty pink. This will get me way through Autumn and even into winter.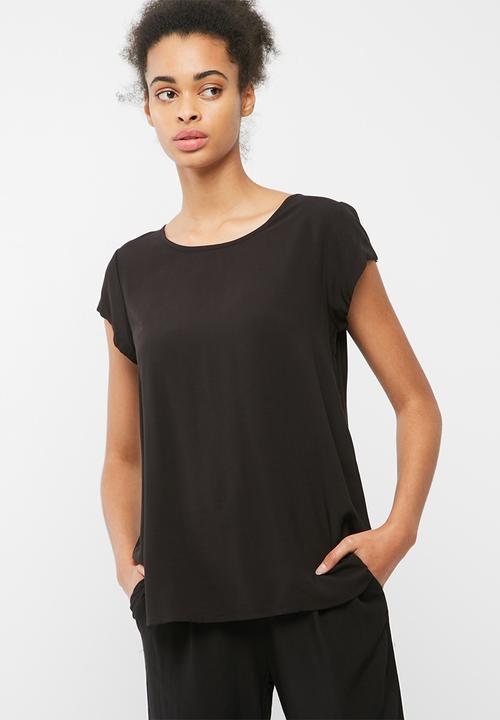 A black blouse also goes with anything as a bottom and comes in very handy on those mornings when you are not sure what to wear. A black blouse also brings out my complexion really well and I am a sucker when it comes to this colour. It's a must have for me.
And did you know? You will definitely get R250 off when you buy for the first time on Superbalist, provided though, provided you will spend R600 or more either online or on the app. Yes they have an app as well. Just makes shopping a lot easier right. You can just shop away on your phone and voila, you are done and your stuff is shipped to you for free. What's more, you can use Discovery Miles or ebucks to pay for your order at Superbalist which is what I often do when I shop where I can pay with points. 
Are you an online shopper? What do you shop more online, clothes, groceries, electronic items or cosmetics? Share with us in the comments below. Otherwise, thanks for reading my post and many blessings to you and yours. Choose to be happy this fabulous February.